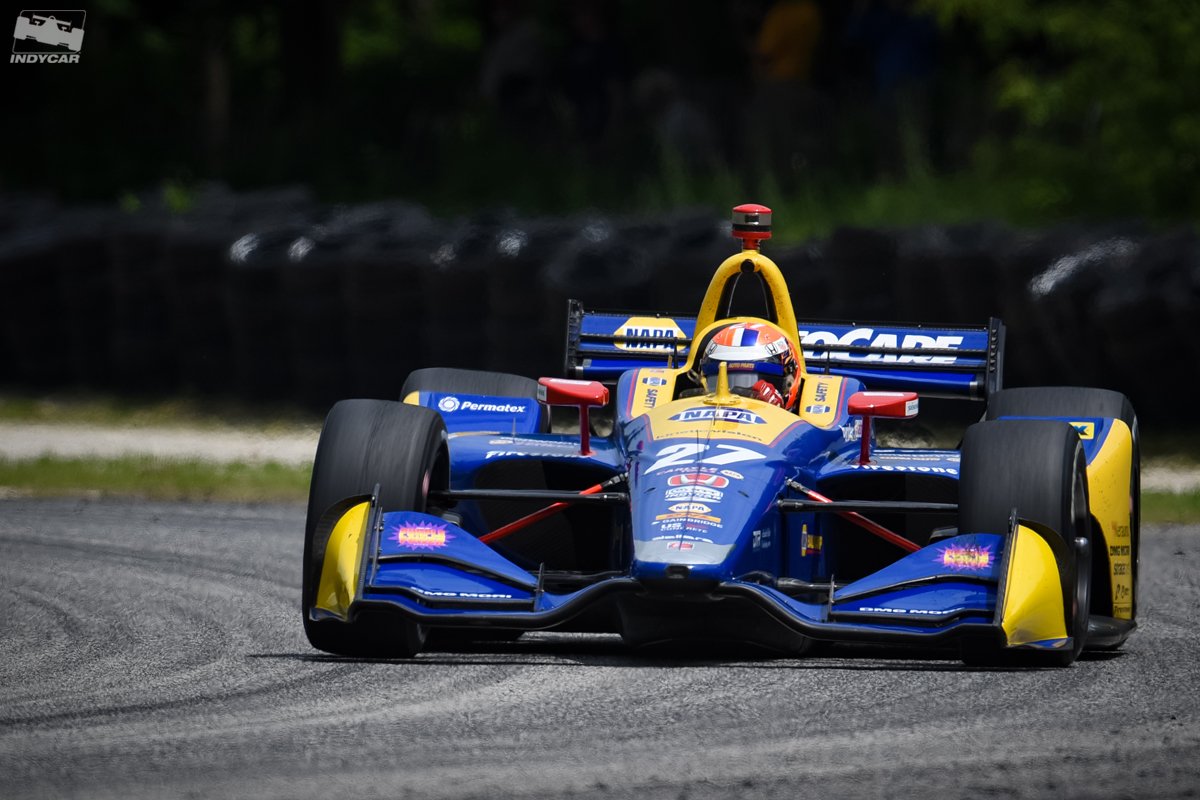 Photo from twitter.com
In the most lop-sided IndyCar contest in a decade, Alexander Rossi won going away for Andretti Autosport in a typical Road America laugher. In the annals of racing, perhaps never was a caution, a rain storm, or a Sato desperation banzai move more needed to liven up the show.
Sunday's pre-race coverage was lengthy, featuring Rossi, Jean Girard lookalike Indy 500 winner Simon Pagenaud and the legendary Scott Dixon, whose dreadful luck of late was chronicled – and would continue. The start of the race saw polesitter Colton Herta lead Rossi toward turn 1, although it wouldn't last. Rossi skillfully passed him on the outside of the corner for P1 and never looked back. Whinin' Will Power immediately was all over the 19 year old rookie for second, a spot he'd eventually take. Herta would finish eighth.
Then Dixon spun 'round after going wide into a turn and being rudely hit from behind by Ryan Hunter-Reay (with the hyphen here to stay), dropping to last. In typical Gumpian fashion, he'd fight his way all the way back to fifth by the checkered flag. This after blowing an engine in quals. Cars quickly spread out single file before Sato and Hinch made contact, with Taku banging into the Canuck and going briefly off track.
Rossi led Herta, Power, Ragin' Graham Rahal and Josef Newgarden with Rossi jetting out to a substantial early lead. Pags flew around Ed "Dubai" Jones to gain his sixth position in the first few laps, already up to tenth place. Taku was next to get around Jones, who went off course kicking up dirt as he was fighting a poor handling car all day.
Next it was Marcus Ericsson's car that left the surface, speeding into the gravel trap after going hot into a corner, a mistake he'd made previously in practice. The Swede avoided the tire barrier and kept it going however, much to the chagrin of those of us hoping desperately for a yellow. Zach "son of Dracula" Veach and Jones battled furiously back and forth, with Veach ultimately prevailing before Jones again went off course in a rough day for the ECR driver. Meanwhile, Dixon had already advanced all the way up to fifteenth from last place following his first lap incident with RHR. At the front, the leaders held station.
In turn five Herta went way wide and then got extremely loose as he saved it, although he dropped back even further behind Rossi who enjoyed a huge lead going into the first round of pitstops. Then Power bumped his way around a hurtin' Herta – whose used red tires were shot – followed by Rahal as pitstops commenced. Joaquin's fuel took an inordinate amount of time, costing the series' youngest ever race winner and polesitter more track positions – and any shot at a podium finish.
Rossi led Power, Rahal, second Swede Felix Rosenqvist and Dixon before the next pit stops. As cars scrambled off of pit lane, Newkid went around Rahal who'd just left his pit, going off track to do it. When the smoke cleared, Rossi led Power by over eight seconds, trailed by Newkid, Hinch and Rahal. Soon Marco's car quit with electrical issues, amounting to no great loss. Herta tried passing Pags, bumping and sending the rookie off course while allowing Dixon to pass them both for seventh. Herta still came out ahead of Pags, and would ultimately finish one spot ahead of him.
With a gap at the front of nearly fifteen seconds, the only hint of competition was deep in the field as Herta and Dixon battled for position, the rookie temporarily taking seventh away from the veteran racer. The second round of pitstops commenced with Herta in and out quickly ahead of Dixon. Rossi stayed out longer than the rest, his Honda making plenty of fuel mileage as well as speed. His stop was smooth, exiting rapidly and resuming his lead by eighteen seconds over Power, Newkid, Hinch and Rahal. In a rare bit of excitement, Penske stablemates Power and Newkid raced furiously, with Will managing to hold off the points leader for the rest of the race.
Suddenly, right after the midway point the track started to come apart – specifically a red painted portion of the turn 7 curb – ala Detroit several years ago in another embarassing incident on a road course. When a yellow was never more badly needed due to a twenty second lead, none was forthcoming. Unfortunately the rain failed to materialize either, and the race became a foregone conclusion. Rossi led every single lap and would prevail by nearly half a minute, proving our point about the utter lack of quality racing at Road America. It was the largest margin of victory in a decade, since Dixie did it at similarly sucky Mid Ohio. Power, Newgarden, Rahal and Dixon filled out the top five.
Once the so-called race had concluded, Rossi said of his NAPA Honda, "it was the best car I've ever driven."