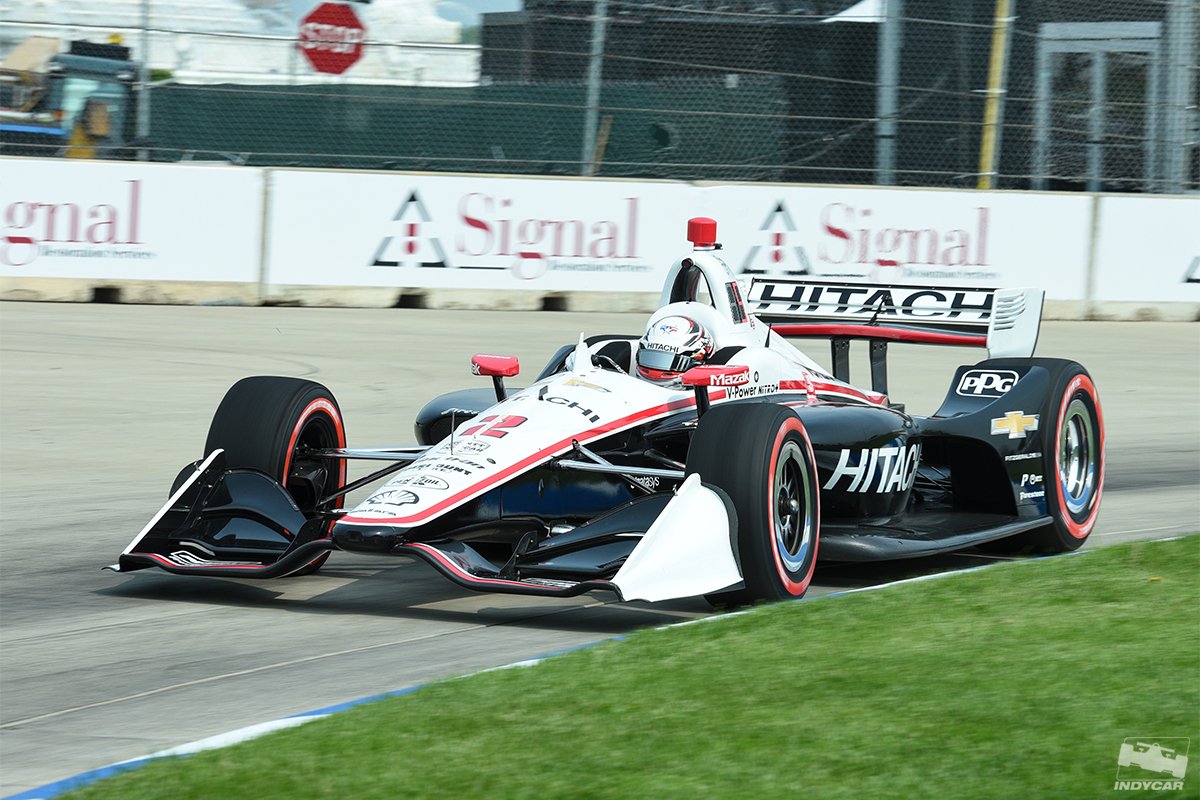 Photo from twitter.com
Following a lengthy rain delay, Rossi's typical smugness and a whole lotta Frenchman in the pre-race, festivities finally got underway over an hour and twenty minutes late. It's what NBC's Daffy Leigh Diffey called "a slight delay." For sitting through the wait, fans were treated to a single file start and a timed race. Really?! Either the track's good to go racing or it isn't. We've long been on record arguing the latter.
Zach "son of Dracula" Veach spun during the parade laps, soon followed by Canuck James Hinchcliffe, both suffering no apparent damage and thankfully only added a lap's delay. Now with merely seventy two minutes left, Santino Ferrucci narrowly avoided AJ Foyt's Matt Leist who spun out on a wet patch of concrete. Then Whinin' Will Power pinched one of the way too many blue cars as they went three wide through the turn. The yellow flag flew by lap 2, with Takuma Sato getting into Pato O'Ward on a track clearly too wet to start a race.
Photo from indycar.com
The caution dragged on and the track continued to dry when, with just over an hour of racing left, Power went around Hinch as the Swede Felix Rosenqvist climbed up to third as Sato and others got sideways on the damp, bumpy surface during the restart. It's a battle that would continue. Cars went three wide with Pags sailing around Ed Jones as Colton Herta bravely battled Power for position. Pags, up three spots since the start, dived inside of Hinch rudely taking ninth. Finishing sixth, the 500 winner didn't really contend all day, precisely as predicted.
Poorly qualified Power then flew around Sato in dramatic fashion for fifth place as the track dried steadily in the sunshine. Rossi was up two seconds over Scott Dixon, Newgarden, Rosenqvist and Power before the Aussie went around the Swede for position. Bizarrely, the field began to follow Marco of all people who was first in changing to slicks from rain tires. Suddenly, a full course caution flew due to Ed Jones missing the corner and stranding himself, stuck in the tire barrier. Ferrucci went around Veach under yellow, and was soon rightly made to give the spot back. Zach finished eighth on the day.
Yellow flag pit stops commenced for several contenders, including the leaders Rossi, Dixon, Newgarden and Power. Unlike at the 500, Rossi's service was quick while Power's right front changer got short changed, as Will was given the go sign prematurely – when he took off, his tire went bounding across pit road. The incident resulted in Power slamming into the pit lane wall before being awarded a drive through penalty, his day dashed.
Photo from indycar.com
Somwhat surprisingly and in what turned out to be the move of the race, Newkid took the lead from Rossi during the round of pit stops on lap 19. He wouldn't relinquish it. The restart arrived with thirty three minutes to go, as Newgarden continued to pace Rossi, Dixon, Rosenqvist and Ryan Hunter-Reay. Veach ran side by side with Herta, and Joaquin held on briefly before Veach stole the spot. Almost immediately Dixie misjudged and drove into the tires after getting wide, snuffing the car into the tarpaulin. He tried in vain to reattach his steeering wheel while looking at it upside down before being sent to the care vehicle. It was Dixon's first DNF in nearly two years.
Twenty minutes remained in the broadcast as the inevitable switch to CNBC arrived, fresh off the resumption of green flag racing. It was reported that Newkid somehow didn't get a full fill of fuel, as Penske's persistent problems at Detroit seemingly continued. Andretti Autosport did manage to get Rossi fully fueled in a resounding change from a week ago at Indy. As the minutes ticked by, the tire barrier took extensive time to repair – if not a lot effort. It's a tarp over tires, for crissakes!
Photo from indycar.com
The race finally resumed with less than thirteen minutes to go as Newkid led Rossi – the only two leaders on the entire day. Sato slid around Rosenqvist for a third place finish, his second such podium in a row. Dixon said his car suffered a lot of damage in his crash just as a final caution fell for Leist getting into the tire barrier near the back straight. It made for a total of four caution flags on the day – and too many delays.
A final restart saw Rosenqvist try Sato for third, making contact though no change resulted. RHR nearly lost it then quickly came under attack from Pags; he'd hold the French 500 winner off for fifth in the end. Newkid beat Rossi to the line for a finish that wasn't really ever in any serious doubt. It was the Tennessean's second win of the season and Team Penske's third straight. Already wet from the rain delayed race and champagne spray, Josef promptly jumped into the fountain to rinse off.