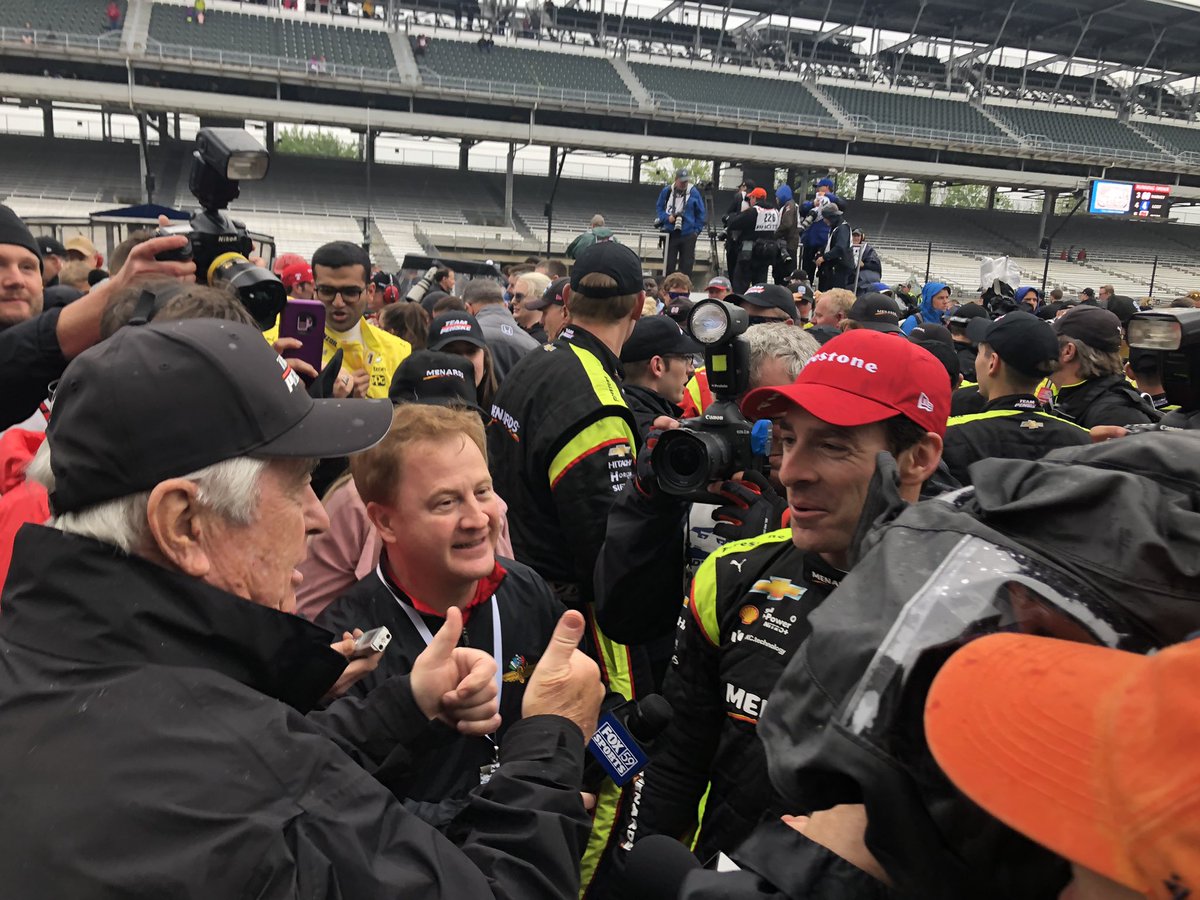 Photo from twitter.com
Empty suited Frenchman Simon Pagenaud passed Scott Dixon with two laps to go to win the rain soaked IndyCar Grand Prix, coming from eighth starting position to take his third victory – and Team Penske's sixth – out of six so-called races 'round the infield of IMS. It was a race held before a nearly empty – though admittedly cavernous – racetrack. Dixon's discernible disappointment at finishing second after leading much of the race was plainly palpable.
The crowd of hangers-on flooding pit road during the pre-race was nearly as large as those poor, drenched paying customers in the sparsely populated stands. Chairman George gave the command to fire engines and the cars were quickly underway. The green flag gave way to the usual first lap problems with Alex Rossi getting rudely run into by Pato O'Ward, sending the 500 winner into the wall, his right rear suspension grievously wounded, ruining his day. The Coyne-ster was penalized for avoidable contact, though came back for a strong – if unjust – showing until the end. Rossi's teammate Zach Veach got hit by Tony "time to call it quits" Kanaan, knocking the youthful, son of Dracula looking American out of the way and into the curb. The aged TK of course faced no such sanction.
Meanhile up front, Jack Harvey went to second around Dixon as rookie Felix Rosenqvist quickly lept out to a comfortable, albeit short-lived, lead. The cars then rapidly strung out behind the Swede into the typically tedious processional of a road race at IMS, though rain and circumstances would save the tiny number of viewers and fans from that punishingly painful purgatory, thankfully. Ganassi's second driver was followed by Harvey, Dixon, Colton Herta – who had an early exit and disappointing day – and Ed "Dubai" Jones in the top five.
The day's first full course yellow soon appeared for the other Swede, Marcus Ericsson, who got loose by himself in the final turn and went through the grass and into the traditional oval setup's turn 1 wall. His day was as done as a week old kettle of Baltic fish. On this day it was a tale of two Swedes early on, as sprinkles arrived at the historic track during the typically lengthy cleanup.
The lap 16 restart saw Dixon sail around Harvey and then subsequently leader Rosenqvist, who locked up his brakes with Hinch going all Canuck on the competition, hitting his former teammate Ryan Hunter-Reay (with the hyphen here to stay). Both Helio as well as "Joaquin" Herta were also involved in this first turn fracas, bringing out the second yellow of three on the day.
The restart occurred with Dixon leaving 'em in the dust as Jones went three wide into turn 1, getting momentarily up to second place. Former leader Rosenqvist fell back to fourth and became a non-factor from that point on, as predicted. Hinch was rightly penalized for avoidable contact on RHR, receiving a dreaded drive through penalty as rain started to fall ever harder at the sight of the greatest spectacle in racing.
Dixon, Jones, Harvey, Rosenqvist and Ragin' Graham Rahal made up the top five while Spencer Pigot got around Pags for sixth then jumped to fifth in what was a woke weekend for the Ed Carpenter Racing upstart. Foreshadowing the finish, Rahal and Pags made contact, as did many others around the cobbled together course, with the Frenchman prevailing. Drivers began pitting for tires as a light rain fell, with Englishman Harvey suffering a slow stop.
On an alternate strategy, Josef Newgarden briefly took the lead after trailing badly and pitting early, followed by O'Ward – even after receiving a drive through – Max Chilton, Matt Leist and Hinch, who soon went around Leist for fourth. The dreaded fuel saving mode kicked in prior to the second stops just before the mid race point, seemingly and usually spelling death for a contest. But happily the rain would soon nullify all of that.
Dixon was lurking in sixth, then passed Leist for fifth on a later pitting strategy than Newkid with heavier precipitation looming on the radar. Newkid pitted from the lead on lap 40 of 85, and Dixon took point over Jones, Harvey, Pigot and newcomer to the mix Pags. In a dangerously exciting moment on pit road, Rosenqvist's car caught fire before his speed upon exiting finally extinguished the flames. Dixie led Harvey, Pags, Pigot and Rahal as the stops cycled through, with Harvey somehow closing on Dixon.
Photo from indycar.com
Pags got around Harvey coming off pit lane, despite experiencing a rare momentary problem in the pits. As the strategies played out, Rahal now led the other Frenchman Sebastien Bourdais, Takuma Sato, Newgarden and Santino Ferrucci. The rain began to come down harder and drivers began diving in for treaded rain tires. Hard luck Helio spun out and went off course after leaving the pits with his new rain ready Firestones. Soon thereafter, the third caution fell for the long anticipated downpour. During pit stops Newkid's crew uncharacteristically lost a tire, which went menacingly bounding across pit road, bringing the Tennessean a penalty and screwing up his promising day.
The race restarted with seventeen to go as Dixon led Harvey and Pigot, while Jones got around Leist for fourth. At this point Pags was mired back in sixth, but in the blink of an eye the Gallic Jean Girard lookalike occupied fifth, then fourth as visibility for combatants hovered near zero due to the rain soaked course. Still, Dixie appeared to have it in hand, up nearly four seconds over Harvey as the track began to dry and conditions gradually improved. Soon Pags closed in on Leist and passed him – the Foyt driver still finished gaining a whopping 17 positions on the day – for third with 14 laps to go.
Pags was quickly battling Harvey for second, the Englishman coming close to blocking the Frenchman, symbolizing one of the oldest and most bitter rivalries in the western world. He dispatched with him in a turn 1 pass with merely six laps to go. Only a second behind Dixon now, the Frenchman soon was amazingly on his tail and trailing by just .4 seconds. On a nearly dry track by that point, the two touched as Pags passed him for the lead on the second to last lap. However distasteful one finds the French – or his juggernaut Penske Team – it was nonetheless a road course victory for the ages.