Photo from indycar.com
Team Penske – the clear class of the field starting 1-2-3 – suffered from tire issues all evening, opening the door for Scott Dixon. The five second victory was his third at Texas Motor Speedway, the forty third of his career and put him in rarefied air in third place on the all time wins list. It couldn't happen to a better guy, honestly.
NBCSN's pre-race covered the gamut, from the Penske trio up front to Rossi's 500 win as well as Power's. Oddly, in the booth they featured three guys – two of them beefy – in powder blue t-shirts. The ever likable Dixon said he "loves driving IndyCars," and when asked about his place on the list mentioned how cool it is that "AJ, Mario and Michael are all still at these races." Presciently, he also mentioned "going for race wins."'
Never to be out-trended, even IndyCar now has a cooking segment, for heaven's sake. Don't worry, we at IRR will never cook to camera. For some reason, it's now Kelly Stavast doing pit coverage, and just when we getting used to the adorable Katie Hargitt. A Will Power feature had Robin Miller saying "ten years ago, Will Power hated oval racing." He still does, Robin – you've been fooled. Daffy Leigh Diffey's Aussie bias shone vividly through as a drone delivered the green flag and the engines were fired.
A clean start saw Newgarden leading with Ryan Hunter-Reay slicing high attempting to pass in a major theme of the evening. Cars were three wide early, as Alexander Rossi got around both TK and Dixon. Wickens moved around Power on the outside and into second by the lap 6. The first caution flew as AJ Foyt Racing's Matheus Leist's car became engulfed by fire in a scary moment. Leist threw steering wheel away and quickly jumped out as the flames encroached upon the cockpit.
Photo from motorsport.com
Following a quick cleanup, the restart came on lap 15 with Newgarden, Power, Pags, Wickens and Rossi the top five. RHR had advanced up to eighth when his teammate Rossi got around Wickens on the high side taking fourth. TK soon pitted with a "broken suspension," caused by the 43 year old brushing the wall at the exit of turn 2, making Foyt's cars the first two out in his home race.
A hard charging Rossi passed Power for third behind Newkid and Pags as the Hondas enjoyed better fuel mileage and didn't suffer from extreme Firestone blistering at some Chevy teams did. Lapped traffic became an issue with Max "Paris" Chilton, as cars stacked up three wide behind him. Zach Veach went high around his teammate RHR and others in a close racing moment. Veach already had gained ten positions, exploiting the high line around TMS with bravery and skill.
Photo from indycar.com
Green flag pit stops commenced, highlighting the ridiculous new extended pit lane speed limit, which now stretches all the way into turn 2. Wickens went around Power on the inside for fourth while fellow rookie Veach ran sixth. The leaders pitted as the Hondas stayed out enjoying better mileage, occupying the top seven positions. Showing some veteran savvy, Dixon passed Veach on pit lane just prior to entering the pits, aggressively taking positions all over the track. After the cycle of stops, Pags was up two seconds over Newkid, Power, Wickens and Dixon.
Then Pags went around Newkid for the lead. Rahal and Veach, who had an eventful evening on the big oval, nearly collided as Rahal tried to dip onto pit lane. Wickens ducked low around Power for position in the Canuck's first high banked oval appearance. He looked impressive, taking second from Newgarden. Suddenly Veach slowed after hitting the wall exiting turn 2 in an incident similar to TK's.
Photo from indycar.com
Replay showed a pass for the lead with Wickens going high around Pags. Newgarden slowed with a low tire and pitted, his right front clearly de-laminating and blistered. Dixon got around Pags for second and Rossi followed, as Penske tire issues were magnified due to their spring settings. Wickens enjoyed a four second lead over Dixon as green flag stops commenced with Hondas briefly making up the top nine.
Wickens pitted taking no changes to the car and exiting quickly, though Rossi passed him on track. Then like TK and Veach before him, Wickens brushed the turn 2 wall, though he escaped with little damage compared. Dixon was then up a whopping seven seconds over Rossi and Wickens, extending his lead.
Photo from indycar.com
Hinch had gained eleven spots to fifth and battled Pags, finally getting around him for fourth – but he had to cut the grass on front straight to do it. The second caution came out when Wickens and Ed Carpenter tangled and spun into wall. Wickens went below the white line on the back stretch and Ed pinched him lower still, taking them both out in hard hit, especially for Ed. Said Ed: "It was my fault. It was a stupid mistake." Dixon adroitly managed to avoid the carnage, as did others.
Image from youtube.com
Now sticker tires were allowed for the first time with pit stops occurring under yellow. Rossi's AA service was slow with an apparent fueling problem resulting in a long and costly stop. Afterwards, Dixon led Hinch, Pags, RHR and Rossi with the second caution period dragging out.  The lap 185 restart saw Rossi get loose next to Pags and slide dangerously high up the track. He saved it but faded, as Pags driving the top Chevy dived low around Hinch for position.
RHR then went high around Hinch as a rejuvenated Rossi battled high and low passing both Hinch and RHR in an impressive move. By this point Dixon was up big with less than fifty to go, cruising to the checkers. Hinch went around RHR on non-stop then the third yellow came out as Coyne rookie Zach De Melo went high and Power drifted up and hit him, ending both their nights.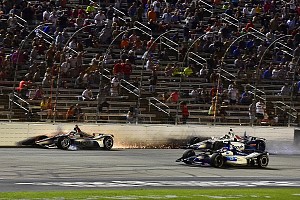 Photo from autosport.com
After another round of stops Dixon led Pags, Rossi, Hinch and RHR. The restart came with 34 to go as Newgarden charged up to seventh before receiving a drive through penalty for jumping the restart. Power, too, was penalized post race for avoidable contact as race control asserted itself all evening, meting out seven infractions in all including three for jumping restarts alone.
Rossi challenged Pags repeatedly, pulling even but unable to pass him. Dixon was up over four seconds as the laps wound down going on to lead 119 laps in all. The new points leader was greeted in victory lane by his owner Chip, who honestly shook him hard, like a rag doll, in jubilation. Pags, Rossi, Hinch and RHR made up the top five in an honest to goodness entertaining race at Texas.
Photo from indycar.com