Photo from indycar.com
The Indy 500 remains the most preeminent event on the American racing calendar, whether most people know it or not. Indy represents the high point of the IndyCar season and will be watched by several hundred thousand people at IMS and millions more on television around the globe. Disturbingly, for the first time in many years there exists real doubt surrounding driver and fan safety in the world's biggest race. It's a humbling thought, isn't it?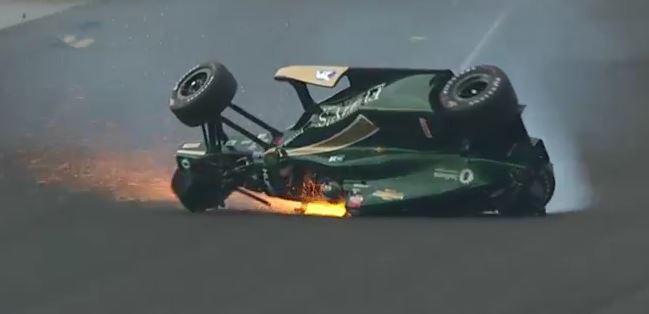 Photo from Motorsports Snippets
We're tempted to predict rain for the race on Sunday the way IndyCar's year has gone so far. Let's recap the first third of the season – a canceled opener in Brazil, an injured fan due to flying debris and a couple other races that nearly bored viewers to death. Now there's the somersaulting car problem and most recently Hinch's serious injury, both troubling issues indeed. In reality a rain postponement – it's in the forecast – which would bring out a smaller crowd and shrunken press coverage may be the safest outcome for a series in the midst of another crisis, humbled once again.
Photo from sports.usatoday.com
Conventional  wisdom holds the 500 will be a crash-fest – particularly if practice has been any indication – and it could well be. But we think not. There've been other recent instances where an ugly beginning – St. Pete and the dawn of the aero kit era, for example – can lead to a more intelligently driven follow up like clean, green though extremely boring Long Beach. Our humble prediction is there'll be no more wrecks than usual in this year's 500, and crashes that do occur will be  no more spectacular than other accidents at Indianapolis with cars going over 220 miles per hour.
Photo from washingtonpost.com
In fact without numerous cautions it should be an entertaining show like last year's race, especially now that the series has done away with many of the troublesome aero kit parts. Just don't look for extremely high speeds – unless you're used to watching NASCAR – as they've dialed the Chevys and Hondas back this year. Remember all those false predictions of new track records Curt Cavin and other "professionals" were making a few weeks ago? Somebody needs a serving of humble pie.
Photo from 1070thefan.com
First out of the race will be rookie Stefano "faster than Andretti" Coletti. The only way he'll be faster than Marco at Indy is in getting to his motor home first. The young driver from Monaco has talent, but the Speedway will prove too much for him in his first visit, aero kit difficulties aside. British blonde bombshell Pippa Mann's another candidate for an early exit, as is rookie Gabby "Pat" Chavez. What can we say, the Speedway's a humbling place.
Image from Indy Race Reviewer
As for often less than humble Marco Andretti, he's back with his dad on race strategy and radio communication for the first time since 2012, so expect the expletives to f#@&ing  fly on race day. Michael was quoted this week in the obligatory Andretti family puff piece in USA Today, reiterating that he's "frustrated for" and "feels bad for" Marco. Awww. "I want him to win . . . it would be great for the series," Michael humbly said.
Photo from foxsports.com
IRR's pick for biggest surprise of the race will not be a driver named Andretti since them failing to win isn't surprising at all. Unexpectedly, it's Hoosier Conor Daly. He's a humble young guy with some experience at the Speedway and certainly deserving of a full time ride, which a good 500 run will help make possible. Unfortunately he's exactly the sort of racer who often runs into bad luck at Indy, though we don't foresee it for Mr. Daly this year. Good things lie ahead for SPM's daring young driver.
Photo from tracksideonline.com
Of course the usual suspects will contend for the win, including the far from humble Penske and Ganassi drivers who have six Indy 500 wins between them. CFH Racing's trio of drivers definitely represents a threat, both to win the 500 and to go somersaulting down the track again – just kidding. Carpenter knows the Speedway well – it's 1/16th his, after all – and Newgarden's a recent race winner on a bit of a roll. JR "Wall-banger" Hildebrand's been really quick this month and certainly has something to prove after his disastrous accident leading in the last turn of the 500 in 2011.
Photo from nytimes.com
As for the Hondas whose performance has been truly humble this season, Andretti Autosport's defending 500 winner Ryan Hunter-Reay starts ahead of where he did last year when he stormed from 19th to victory lane. Carlos Munoz's also very quick around the Brickyard and will be an exciting driver to watch. Veteran part timer Justin Wilson and "Euro Burner" Simona de Silvestro round out the team – along with Marco – and would be real surprises to win, all.
Photo from heavy.com
Our predicted winner is a bit of a surprise, though just a week ago he wouldn't have been. Since Hinch won't be participating this year due to a "dagger through the seat" – better than a dagger through the heart, but just barely – he won't be there to knock our pick out of the race again like last year. If the big two teams struggle as we envision, then the path for our humble man from Paris, Illinois will be relatively clear.
Photo from indystar.com
Starting twelfth instead of from pole as usual, we proudly predict Ed Carpenter in the #20 Fuzzy's Vodka car will prevail in the 99th running of the Indianapolis 500. It may be Tuesday before it happens if the weather doesn't cooperate, but it will happen and merely a week after his upside down crash that changed the rules, qualifying and entire 2015 event. The scion of the Hulman George family will drink the milk at his beloved Indy, humbling some and bringing joy to many.