Photo from nydailynews.com
Thoroughly entertaining, last year's Indianapolis 500 ran caution-free for the first three quarters of the race and featured an absolutely thrilling finish. American Ryan Hunter-Reay amazingly edged out Brazilian three-time winner Helio Castro Neves by less than a car length after passing him through the infield grass for the lead. The race was run with spec Dallara chassis, evolutionary cousin to the DW12. Before turning to this year's 500, we have a serious question to ask. Now that the crown jewel of the sport the Indianapolis 500 has been adversely affected by aero kit madness, why not admit your mistake and go back to the pre aero kit Dallaras of last year, IndyCar?
Photo from sports.usatoday.com
Practice for this year's 500 turned out to be a disaster, especially for a number of Chevys which couldn't manage to keep tires on the track instead getting airborne. The number of Chevys is three, in case you're wondering. As a result the cars were slowed significantly, everyone was made safe and qualifications went off with a whimper, though there's no denying the 500 was compromised by the last minute rules changes. Then Monday practice happened and things suddenly took a turn toward the injurious. James Hinchcliffe's Honda hit the wall in a hard impact, breaking the Canuck Mayor's leg and eliminating him from the field (and rest of the season) in the painful process. One driver down in the aero kit era at Indy, thirty two to go.
Photo from sports.usatoday.com
Interestingly there are only two rookies in the field this year – Gabby "Pat" Chavez and Stefano "faster than Andretti" Coletti. Both start at the rear of the field. There are plenty of former 500 winners in the field of thirty three, however. Here's the rundown of the participating victors: Helio's seeking a record-tying fourth win and starts fifth, defending 500 winner Ryan Hunter-Reay's starting 16th – three spots ahead of last year, Tony Kanaan won in 2013 and starts fourth, pole sitter Scott Dixon won from the pole in 2008, and Juan Montoya won his first appearance at the Speedway in 2000 and starts 15th. It's too bad 1996 winner Buddy Lazier couldn't bump his way into the field, else there'd have been an even six former winners. All of the preceding drivers are credible threats to win, except for Buddy of course.
Photo from heavy.com
Several others in the field have a legitimate chance of winning the 500 mile race Sunday, as well. Tough luck team mates "crashin" Ed Carpenter and "somersault" Josef Newgarden both have quick cars, as does CFH Racing's third car driven by JR "Wall-banger" Hildebrand, who said quite rightly "Obviously, it's nice to be in a Chevy here." Obviously, it's a Chevy team. Andretti Autosport carries the flag for Honda and has four quick drivers, as well as Marco. Just kidding. Simona doesn't stand a chance either. But an entrant from further back in the field could surprise some folks, say RLL's Graham Rahal or his higher qualified Honda team mate Oriol Servia. AJ Foyt's two full timers could also get lucky if the attrition rate in practice has been any indication of the race, provided Taku isn't the one causing it again.
Photo from raceweekillustrated.com
With the inherent dangers of open wheel racing in general and aero kits in particular manifesting themselves, there have been some interesting quotes at the ol' Brickyard this year. Hoosier Honda man Conor Daly said of his week of practice, "I thought I was driving a coffin out there." Happily his car improved by qualifications. Unfortunately northern Englishman Jack Hawksworth committed the cardinal sin of mentioning something called "Le Mans" in the same sentence as the Indianapolis 500. That's something we at IRR simply are not willing to forgive.
Photo from indycar.com
IndyCar's brass may well be praying for rain on Sunday, or making sacrifices, contacting L. Ron Hubbard or whatever it is the bean counters at 16th and Georgetown do to bow down. Empty stands at a Monday or even Tuesday race tragically may be their safest bet for a 500 that's shrouded in doubt and hearing whispers of disaster. How did IndyCar get here again? Oh yeah, that brilliant snake oil known as aero kits, billed as bringing new records, beyond the moon racing and every fan's cure all. That hasn't happened, and aero kits remain needlessly dangerous to fans, drivers and the series. Now the greatest spectacle in racing has been placed in potential jeopardy, too.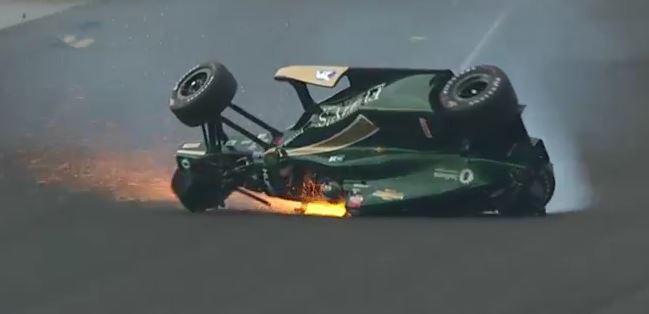 Photo from Motorsports Snippets