Photo from ap.org
An exceptionally odd weekend unfolded at Indianapolis Motor Speedway with weather, aero kit caused crashes and high level closed door meetings all playing large roles in the dada-esque Indianapolis 500 qualifications show. Somehow IndyCar pulled it off in a single afternoon without anyone getting hurt or too many thousands of fans growing irate. Qualifications Sunday were in fact uneventful and even boring, just as the series wanted after a harrowing few days of testing, rain forcing a compressed one day schedule and another scary crash in the final practice. Carpenter's wreck damaged the wall, delayed proceedings past the television window and eventually changed the Indianapolis 500 mile race.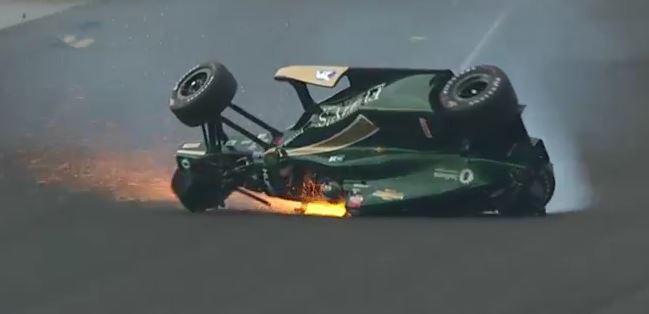 Photo from Motorsports Snippets
Decreased funding this year from Target helped Scott Dixon as the third driver on track put up the fastest speed of qualifications at 226.76 mph – over 3 miles per hour off last year's pole. It's the New Zealander's second Indianapolis 500 pole – last time in 2008 he dominated the race and won. "I'm so damn happy – for this team," he blurted after being forced to watch drivers target his speed all afternoon. Penske team mates Aussie Will Power and Frenchman Simon Pagenaud filled out the front row, but couldn't displace Dixie. At the other end of the success scale, the thirty fourth car was gallantly but futilely driven by 1996 Indy 500 winner Buddy Lazier. Suffering from a late start due to a limited part-time program, he failed to find the speed to bump his way into the field of thirty three. Buddy returns home to Colorado bitterly disappointed but having served a purpose for the series, sort of.
Photo from sports.usatoday.com
The day's only real drama occurred in morning practice, as Ed Carpenter joined Helio Castro Neves and Josef Newgarden in the 'flipped upside down at Indy this year club.' Our predicted pole winner lost his car in turn two and crashed, ending up capsized along with our hopes. Fortunately like the others who've somersaulted their cars down the straight away at Indy lately, he too was all right. Carpenter impressively returned in a backup car just hours after wrecking to qualify 12th. Helio starts fifth while Newgarden starts ninth. "Any time you qualify for the Indy 500 it's a good day," the young American Newgarden said after his run.
Photo from sports.usatoday.com
As a result of Carpenter's nasty airborne accident in combination with the others – Chevys all – practice and qualifications were delayed as the series brass met with Honda and Chevy teams to address the issue. IndyCar decided to do away with Chevy's new aero kit parts and mandate that all teams run their race package instead of their qualifying trim. In the interest of safety, the series slowed the cars down for qualifications. It worked as practice speeds of over 230 mph were reduced to the high 226s and lower. It also succeeded in removing any excitement from the afternoon whatsoever, with no records, high speeds or bumping and very few surprises.
Image from Indy Race Reviewer
During the press conference explaining the sudden and jilting rules changes, President of Operations and Competition Derrick Walker cited safety as IndyCar's main concern. He fielded several questions from the press, including pointed queries about Honda not being involved in any upside down accidents yet still having to conform to the last minute rules changes. Apparently some Honda teams were upset, though AJ Foyt shocked IRR not only failing to swear when given the chance, but also publicly praising IndyCar's decision later on ABC.
Image from imgbuddy.com
At one point Walker tellingly slipped up in his speech under questioning from the press though. Instead of using his preferred word "exercise," he referred to coping with the entire ordeal of cars flipping upside down more frankly as an "exorcism" before quickly correcting himself.  An exorcism is precisely what's needed to rid IndyCar of those unspeakably ugly, devilishly dangerous aero kits. They're an enormously costly mistake and it's time IndyCar admitted it and called in the priests.
Image from top10films.co.uk
J.R. Hildebrand succinctly put the manufacturer situation in perspective, saying "Obviously, it's nice to be in a Chevy here."  The Hondas continued to struggle even under the new rules, with veteran part timers managing better than many regulars. Height enhanced Englishman Justin Wilson driving for Andretti Autosport emerged as top Honda in sixth position, two spots ahead of erstwhile full time team mate Marco Andretti. JWil clearly wrung the most out of the car, nearly slapping the wall coming out of turn 4 on his run. Speaking of irregulars, Spaniard Oriol Servia for RLL Racing put his gorgeous Ray Harroun Marmon Wasp tribute car in the show in thirteenth, four spots ahead of his Honda team mate Graham Rahal.
Photo from motorsport.com
ABC's usual crew included 500 winner Eddie Cheever, Scott Goodyear, Alan Bestwick and the rest who did respectably well with a toned down, retarded qualifications show. Jon Beekhuis even made an appearance. Talk of track records was nowhere to be found, though comatose Canuck Scott Goodyear did manage to use the non-word "irregardless" again on national television – this after referring to the "IRL," a non-existent league. Coverage of actual qualifying didn't begin until after a three-plus hour delay due to track repairs from Carp's wreck, new rules meetings, practice and so forth, although the entire show took only four hours once it finally began.
Photo from espnmediazone.com
To further complicate matters, the broadcast switched from ABC to ESPNEWS, which many people don't get in their cable packages. It was a no win situation for the network, but kudos for the effort as ABC/Disney did the right thing in covering it on an ESPN channel, ironically extending television coverage well beyond what was planned. They didn't have to provide the extra coverage simply due to unforeseen circumstances, but did anyway. Those were unforeseen circumstances that some of us saw coming since St. Pete, by the way. In the end, Mr. Walker was inadvertently right – when cars are flying through the air it's exorcism time, IndyCar.
Image from fangoria.com