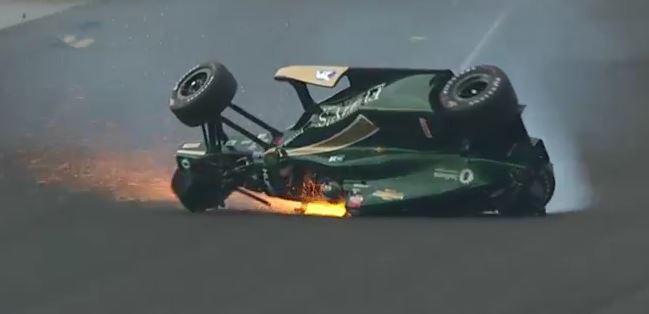 Photo from Motorsports Snippets
Owner/driver Ed Carpenter crashed in morning practice at Indianapolis Motor Speedway at shortly after 8 a.m. local time. The CFH Racing partner lost his #20 Fuzzy's car in turn 2, spun into the wall and the flipped upside down before coming to rest. Fortunately Carpenter, who'd won the last two poles at Indianapolis and was seeking a record third straight, escaped the accident fully intact though obviously upset. He mentioned the unpredictability of the cars and being "pissed." It's the third time a Chevy has been airborne or upside down this month at Indianapolis, as Helio and Josef Newgarden already took wild rides last week. It's a concern for the race, for certain.
Photo from ap.org
Carpenter's qualifying for the Indy 500 is now in some doubt, as due to rain yesterday the entire schedule has been compressed into today's sessions. It's a real shame for the American oval ace who was a favorite to win the race. His hopes of a record third consecutive pole now gone, Carpenter must focus on the race itself which remember was won last year by the 19th place starter Ryan Hunter-Reay.